Uwingu Offers Dads an Out of This World Father's Day Gift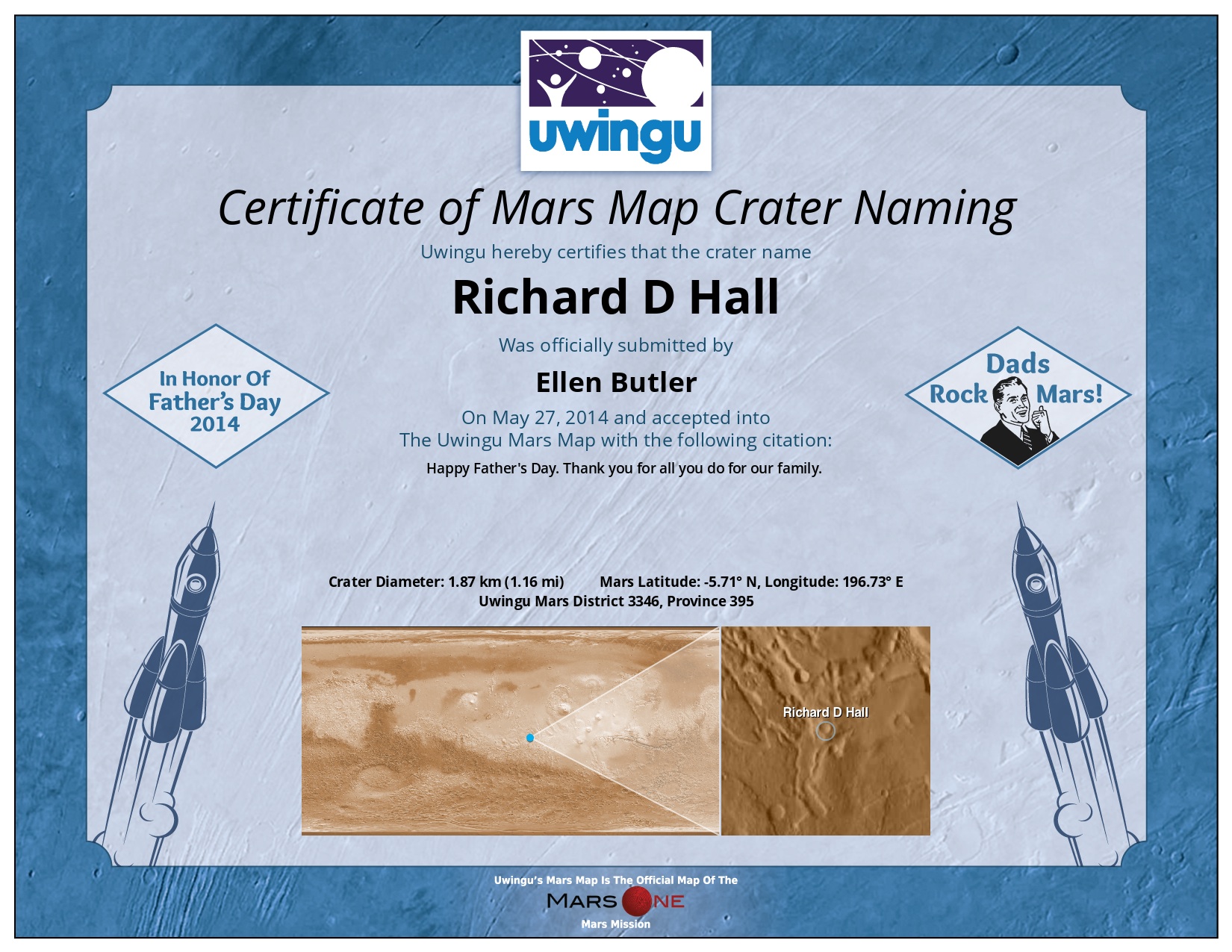 Name a Mars crater in honor of dad on Uwingu's new Mars map
As a part of Uwingu's "Dad's Rock Mars" Father's Day project, gift givers visiting Uwingu's web site at www.uwingu.com have the first-ever opportunity to honor Dads for Father's Day by naming a crater for him on Uwingu's crowdsourced Mars map. The map will be carried to the surface of Mars on an upcoming space mission sponsored by Mars One.
Uwingu, a company helping people personally connect with space exploration and astronomy, announced today this unique gifting experience, which will last until Father's Day, June 15. Each crater named for Father's Day will be recognized with a handsome, official certificate of naming.
Half of the revenue Uwingu receives from the craters bought and named on Uwingu's Mars map will go to fuel The Uwingu Fund, which provides grants to further space education, exploration and research. Prices range from $5 to $5,000 depending on crater size. There are almost 590,000 unnamed, scientifically cataloged craters on Uwingu's crowdsourced Mars map.
"Dads of all ages will love this really unique, out this world Father's Day gift for 2014. Dad may not be able to go to Mars himself this year, but his name can be put on the first ever public naming effort for Mars, and he'll know that it'll be going to Mars when Mars One launches its first lander mission in 2018," said Alan Stern, Ph.D., planetary scientist, and founder and CEO of Uwingu; Stern formerly directed all science programs and missions at NASA.