Every crater naming purchase includes a downloadable certificate, perfect for posting and sharing online or printing and giving as a gift.
NEW! Add a professionally printed & framed certificate for an additional $39.95, free shipping to USA addresses!
Choose from 16 certificate designs!
A great gift for…
Christmas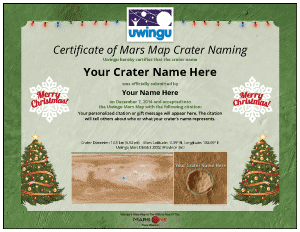 Chanukah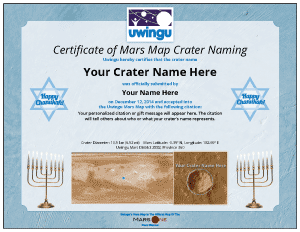 Season's Greetings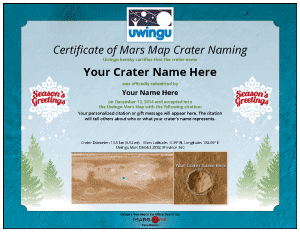 Graduations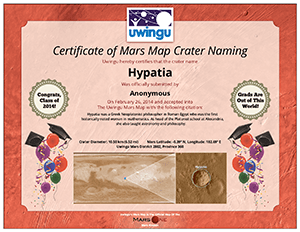 Thank You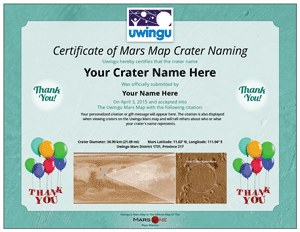 Weddings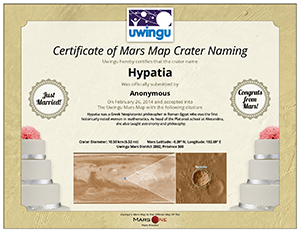 Anniversaries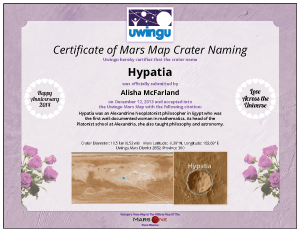 New Baby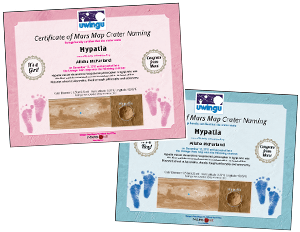 Get Well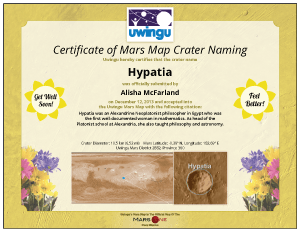 Birthdays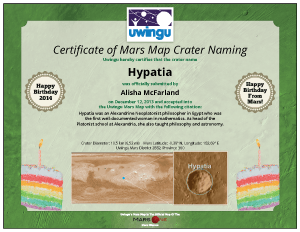 In Loving Memory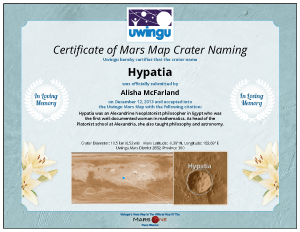 Mother's Day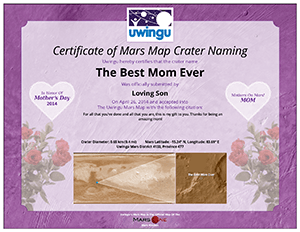 Father's Day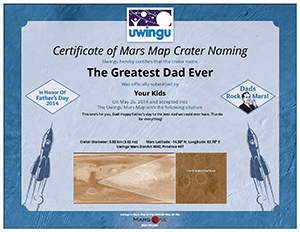 Name Mars Just Like NASA Rover Teams Do
For years, space mission rover drivers have named craters on Mars and Apollo astronauts have named landing site landmarks on their Moon missions.
Now it's your turn to help create the first crowdsourced Mars map, with names for all of the approximately 500,000 largest, still unnamed craters on Mars! You can also help name the map grid rectangles of all the Districts and Provinces in our address system–the first ever address system for Mars.
All existing Mars crater names, including IAU names, have been grandfathered into the Uwingu Mars map. Prices for newly named small craters begin at just five dollars, and increase with crater size. Give it a try!
When you name and purchase a Mars Crater, you will be able to download a .png image file of the certificate immediately – either from the confirmation email or through your order history when you are logged into your account. You can then print it out yourself or send it out for printing. You can print it as many times as you would like. Your crater name, submitted by information and citation will also be added to the Mars Crater Map and visible to anyone viewing the map on uwingu.com.
Each feature named helps fuel The Uwingu Fund, providing grants to space researchers, educators, and entrepreneurs in this time of government cutbacks.
Hurry, there are billions of people on Earth–far more than the number of available Martian craters!
Quick Option
If you don't want to select your crater yourself, just pick your price level and we'll choose a crater for you!
Mars Surface Viewer
Instructions: Click and drag this map to move around Mars, or select another location from the Mars Global Map below.
Just mouse over and click on craters, districts, and provinces to name them! About naming craters About Districts and Provinces
Key:
Named

crater
Available

crater
Reserved

crater
Named by
---
Diameter:
Latitude: ° N, Longitude: ° E
District: , Province:
Citation:
---
Offensive? Report to helpdesk@uwingu.com
Checking availability…
If this does not complete within a few seconds, close this box and try again.
Price: $
---
Diameter:
Latitude: ° N, Longitude: ° E
District: , Province:
---








Did You Know?
20,729 Publicly-Named Craters 575,682 Available Craters Newest Named Crater: Named By Neil and Annie kemp
Search Results
| | Name | Type | Latitude | Longitude | Diameter/Size | Named By / Date / Citation |
| --- | --- | --- | --- | --- | --- | --- |
| | | | | | | |
| | | | | | | |
| | | | | | | |
| | | | | | | |
| | | | | | | |
Crater Data
Hover over craters in the Mars Surface Viewer to view Crater Data here. Click a crater to view full details or to name an available crater.
Name:
Diameter:
District: , Province:
Latitude: ° N, Longitude: ° E
Named by: ,
Citation:
Offensive? Report to helpdesk@uwingu.com
Mars Global Map
The small map below represents the entire surface of Mars. Clicking an area on the Mars Global Map will display an enlarged view of that area in the Viewer above. Each square in the Mars Global Map's grid represents one province.