Uwingu Partners with Explore Mars on Time Capsule To Mars Initiative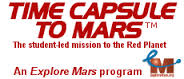 Student-led project to carry first crowdsourced Mars map in upcoming time capsule mission
Uwingu, a company helping people personally connect with space exploration and astronomy, today announced a partnership with Explore Mars Inc.'s initiative called Time Capsule To Mars (TC2M), a non-profit student-led project dedicated to sending a physical time capsule to Mars. As a result of the partnership, TC2M will carry Uwingu's new crowdsourced Mars map to Mars on this mission.
The goal of the TC2M initiative is to land a spherical digital time capsule on Mars containing millions of uploaded images and written messages from people from every country on Earth for as little as 99 cents each. TC2M aims to be the world's first student-led interplanetary mission, one that will inspire today's youth about science, technology, mathematics, and engineering, while providing people everywhere and from all walks of life with an opportunity to support education in those fields and to send a timeless message to Mars.
"The TC2M team is excited to work with Uwingu in reigniting a passion for space, particularly Mars exploration," said Emily Briere, TC2M student project leader.
Anyone can donate to the TC2M project and learn more about the mission through the Time Capsule to Mars website.
"This strategic partnership will help both of our companies encourage space exploration and future space research," said Alan Stern, planetary scientist, founder, and CEO of Uwingu. " Moreover, the fact that TC2M will carry our map to Mars, as will the Mars One private Mars mission, shows a growing momentum behind the adoption of Uwingu's new Mars map."
Uwingu's Mars map crater naming project allows anyone to help name the approximately 590,000 unnamed, scientifically cataloged craters on Mars, starting at $5 each. Uwingu aims to raise $10 million for The Uwingu Fund from this crowdsourcing project. The Uwingu Fund provides grants to further space exploration, research and education.
Boulder, Colo.-based Uwingu consists of a growing team of space scientists, educators, NASA veterans and prominent businesspeople who are passionate about space exploration and education.