Earn Uwingu credit through your blog!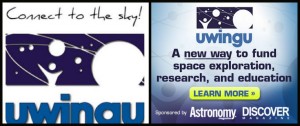 Do you have a blog or website?  Lets help each other!
We are looking for more creative ways to spread the word about Uwingu and naming exoplanets.  With your help we would love to reach more people, watch the new names roll in, and feel good about supporting more space research and education projects!
Let's do it:
1.  Create a positive 250 word or longer blog post about Uwingu, your favorite Uwingu exoplanet name, then share it with us via Facebook or Twitter for $5 in site credit"
2.  Or alternatively, use the HTML code below to add one of our e-badges to your site and show it to us for a shout out on Facebook or Twitter
Badge Code (see post image for the two options):
Uwingu w Astronomy & Discover Badge
<textarea name="textarea" cols="40″ rows="4″ wrap="VIRTUAL"> <a href="http://www.uwingu.com" target="_blank"><img src="http://i1288.photobucket.com/albums/b492/elkhall/3474_411148938956382_1334712768_n4_zps5427c648.jpg" border="0″ alt="http://www.uwingu.com"/></a></textarea>
Uwingu Logo + URL Badge
<a href="http://www.uwingu.com" target="_blank"><img src="http://i1288.photobucket.com/albums/b492/elkhall/a0792a5f-aedc-4a33-b97b-23d92f0e0192_zpsd04a2f85.jpg" border="0″ alt="http://www.uwingu.com"/></a>