About Nominating Exoplanet Names
Astronomers estimate there are over 160 billion planets in our galaxy. That's a number so big that it's been estimated that if all the world's astronomers did nothing but build a name list, working 24×7, it would take about a century!
Here at Uwingu, we're asking the public to get involved, creating a vast list of planet names for astronomers to choose from. After all, who wants planets to be known solely by geeky technical identifiers, such as 51 Peg b or Upsilon Andromeda c, when we can instead honor living and past humans, heroes and hometowns, sports teams, films, and artists?
At Uwingu, we think everyone on Earth should be able to leave their mark in space by helping name newly discovered planets in our galaxy. We hope you'll get involved.
And when you do, you'll also help fund space exploration, space research, and space education through proceeds from these name nominations that fuel The Uwingu Fund.
For $9.99, nominate any name that you want. Complete the name nomination form here. Names must:
Be 50 characters or less
Include letters (not just numbers)
Not include anything vulgar, profane or insulting
Not duplicate any name in the database
And you can nominate as many names as you want. There is no limit!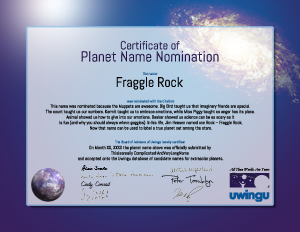 Each time you nominate a planet name, we'll record it, along with your name, city and country, as well as whatever you want to say about why you nominated that particular planet name, for posterity.
And, after you check out at our store, you'll receive a link to download an electronic certificate of your nominated planet name, which you can print, frame, share via social media and more.
About Voting on Exoplanet Names
Want your voice to be heard? Then get out and vote … Uwingu style!
Our planet name database contains nominated names for exoplanets submitted by people around the world, including those nominated by you and your friends, relatives, neighbors and colleagues.
Choose your favorites and cast your votes, at $0.99 cents each. And promote your favorites–tell your friends, your family, everyone on your Facebook, Google+, and Twitter pages to help vote it up too.
When a name reaches 1000 votes, the person who nominated that name can choose which exoplanet in the sky they want to adopt, and give it this name!
And remember, proceeds from each nomination and each vote go toward The Uwingu Fund, to provide grants to scientists, educators, and others to conduct space research, education and exploration projects.