Uwingu Announces a Curated, Daily Space Image Subscription Service
High Def Images and Informative Captions Selected by Space and Astronomy Experts, Sent Daily to Subscribers
Just in time for the holidays, space company Uwingu is announcing the launch of a new product—Daily Space Explorer—that anyone can subscribe to, or give as a gift, from Uwingu
Each subscription sends the subscriber 365 daily electronic high-definition space and astronomy images and their detailed, informative captions, selected by space and astronomy experts at Uwingu. Each caption contains links to even more information for those who want to explore further. And every image has an associated discussion page at uwingu.com to share thoughts, ask questions, and discuss with other subscribers and Uwingu staff.
"If you love space, you will love this beautiful daily dose of it—beautiful images of space missions, space personalities, space history, planets, and the far away cosmos. Each image is curated by space lovers for space lovers" said planetary scientist and Uwingu's CEO Dr. Alan Stern.
Added Uwingu's Ellen Butler, "Having problems thinking of holiday or birthday gift ideas for children, grandchildren, friends, teachers, and colleagues? Daily Space Explorer is perfect—send them a daily dose of space eye candy with an informative caption they can learn from. This gift will keep on giving for a whole year."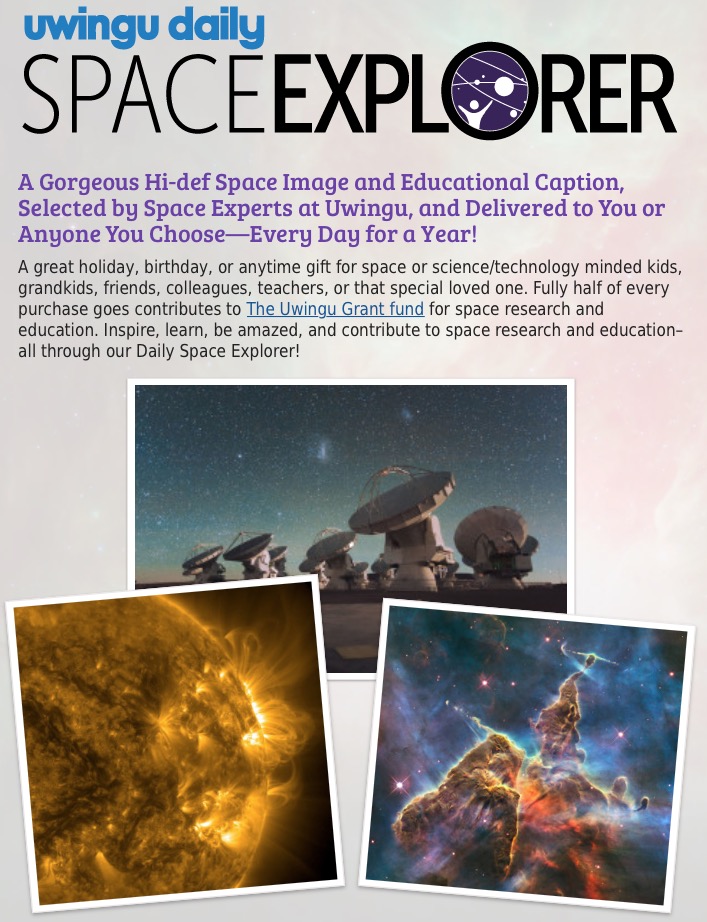 Subscriptions run $19.95 for 365 days of Daily Space Explorer; subscribe at uwingu.com, but all prices are cut to $9.95 until Christmas. Like all Uwingu projects, fully half of all proceeds from subscriptions contribute to The Uwingu Fund, which funds space research and education grants to researchers and space organizations. So in addition to enjoying daily imagery, Uwingu Daily Space Explorer subscribers or gift givers know that they are also advancing space research and education via their purchase.
Added Uwingu staff planetary scientist Dr. Henry Throop, "Now anyone can share in the excitement and beauty of space and space exploration, every single day!"